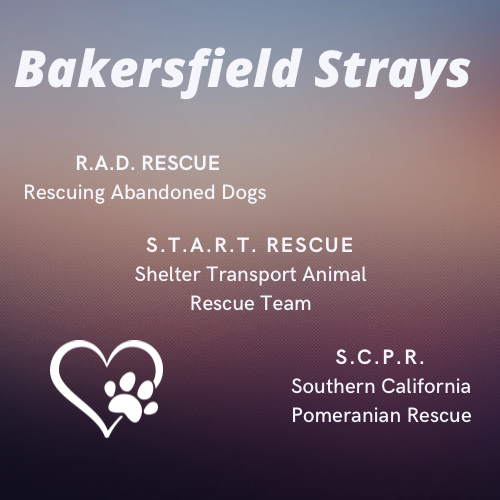 To rescue, rehabilitate and rehome the abandoned animals in Bakersfield, California.
No life should be set aside as having no value.

We are a coalition of animal rescue groups, coming together to provide hope, compassion, and value, to the abandoned animals in Bakersfield. Our goal is threefold:

1. To contain, provide medical care, and find suitable housing to complete the rescue process. This can either be through another rescue group or a private home.

2. To Work with city and county officials to enforce current animal laws, and encourage spay and neuter events in their communities.

3. To make resources available, to the surrounding communities, in Spanish and English to teach animal husbandry, offer spay/neuter, parasite control, vaccinations , and rehoming options.

ISSUE AT HAND: After trapping, vetting, and boarding, the sticking point we are running up against is the placement of the dogs. We are holding off on trapping more (an estimated 100 or so) until we can find partners to help continue the rescue process. If you are interested in doing this, please send us an email. Your help is urgently needed.
The mission of ReelTime Animal Rescue is to promote animal wellness, provide education, and establish a funding channel for caregivers and organizations on the front lines of animal cruelty, wildlife rehabilitation and placement. Bakersfield Strays receives 100% of the funds you donate to our organization via our direct donation link here:
Please specify "Bakersfield Strays" when making your donation. Thank you!